Contact Forest Lake Chiropractic
We'd love to hear from you! Call us (07) 3372 9944
Covid-19 Update
COVID-19 issues are challenging and we want to take the time to share our gratitude. A warm thank you to all who have supported us. We are proud to be able to keep our high quality service continuing during this time.
Our heart goes out to all those feeling emotionally and financially stressed by these unprecedented and unexpected events. We are here to help so please talk to us if we can assist in any way.
We can only focus on keeping smiles on our faces and thank:
– Our wonderful patients who have supported our services and patiently respected the clinic recommendations and social distancing guide lines
– Our wonderful staff who have cleaned incessantly and put all Co-vid 19 recommendations in place to ensure our clinic complies
– Our patients who have protected themselves and others by isolating as required with all the associated difficulties.
We are here for Chiropractic Services for our normal operating hours and availability.

CONTACT
Forest Lake Chiropractic
1a/251 Forest Lake Blvd
Forest Lake, QLD 4078
T: (07) 3372 9944
E: reception@forestlakechiropractic.com.au
Emergencies: CONTACT US VIA FACEBOOK MESSAGE OUTSIDE CLINIC HOURS ONLY
Fax: 07 3372 1818 – To be used by practitioners only
Clinic Hours
M
8:00 – 11:00
3:00 – 6:00
W
8:00 – 11:00
2:30 – 6:00
F
8:00 – 11:00
3:00 – 6:00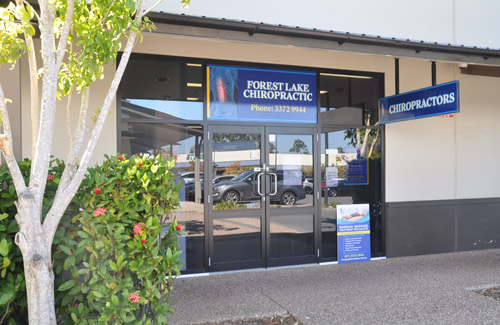 FIND US